WHY DO CATS LOVE BOXES
I know I am not the only cat owner who has pondered the question why my cat insists on trying to get him into the smallest of spaces despite the visible discomfort. So I decided to sit down and have a cat to a cat behaviorist (yep it's a real job) and try to find out why they do this weird behavior that constantly must make claustrophobics cringe.
THEIR ANATOMY ALLOWS THEM TO:
Firstly, we need to remember that the body of a cat allows for extensive flexibility. Their spines have more vertebrae than ours and they strangely do enjoy cramming themselves into their confined spots. Additionally, their hips and shoulder joints move in one direction (unlike ours) so by bending their joints to them feels like a sort of stretch. So a big reason why they love tight spots is because unlike us their bodies enable them to do so.
IT'S A SOURCE OF COMFORT:
It is thought that curling up aside from keeping their heat in, also is a source of comfort. Curling into a ball often is a subconscious act to mimic their fetal position. Obviously as a kitten, they also loose more heat than an adult cat as they have less fur and less body fat so it can be estimated that it is an effort to return to the joys of being a kitten.
Additionally, due to their flexible anatomy curling up is similar to a gentle stretch on their spine that can also help them relax. Aside from this, they loose minimal heat from exposure to the elements if they are sleeping outdoors.
Curling into a ball is also thought to be a way to protect themselves from predators in the wild. By curling into a ball, they are positioning their internal organs in a protected position by their spine and their ribcage. It is thought that cats often would sleep like this so if a predator is to attack, that they have the most likely chance of protecting themselves and preventing severe or life threatening injury. This has also been estimated due to pregnant female cats exhibiting the curling behavior despite obvious increases in body temperature. Obviously curling up helps to protect their unborn young to ensure survival.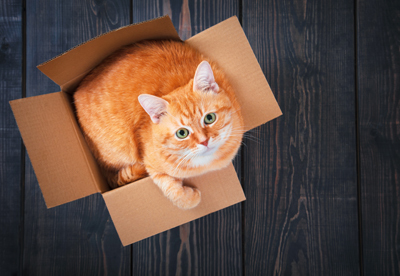 WHY WE SHOULD TAKE THIS INTO ACCOUNT WHEN PICKING A CAT BED:
We are all aware that there are some behaviors that some cats have that others don't. For example, some cats enjoy being crumpled up to sleep; others love to stretch out (often most cats will enjoy the option of both). So perhaps before investing in a luxury cat bed, try to watch how they prefer to sleep and give them the option of both. Frequently it is influenced by the weather, by curling into a ball they loose less heat so often this is their preferred sleeping position, where as stretching out lets the heat out which makes it an ideal summer sleeping position. Most cats love to have the option of both, which is why they love sleeping next to us in bed. Our bed lets them curl themselves up and get our body heat, as well as stretch out on the end of the bed when they become too warm.
Obviously, despite being incredibly adorable to see your curled up kitty in a box it also serves a real purpose. Evolution has enabled the survival of cats for centuries so they have a few tricks to ensure survival. Curling up lets them protect themselves, contain heat and also due to their flexibility it is thought to gently stretch their long spines.