Everyone thinks their own cat is the sweetest, most endearing, intelligent, and friendly animal of the entire species. And while within your family and social circles this might be the case, there are a few cats that have actually made history — and major media headlines. Let's take a look at some of the most famous felines that ever lived — and were literally the 'cat's meow.'
Tommaso, the Wealthiest Cat On Earth
This black cat once wandered the streets of Rome as a stray, feeding on scraps and scrawny rodents. He was acquired by the wealthy estate owner Maria Assunta and in 2011 she died without any human heir to her will. Over $13 million in property was officially left to her cat Tommaso, who quickly became the richest cat in history. One thing is certain — this alley cat will never walk the streets again!
Tabby, the First Cat in the White House
President Abraham Lincoln was known to have loved many animals in his time especially cats, and was the first President to bring a cat into the White House. The cat's name was Tabby, and once she was given a spot at the dinner table during a formal affair.
Tardar Sauce, aka 'Grumpy Cat', Social Media Star
Tardar was adored by her owner Tabatha Bundesen due to her unique facial expressions caused by a severe underbite and slight feline dwarfism. Pictures posted of her initially on the website Reddit, with corresponding captions, ended up going viral. Tardar Sauce was quickly turned into the famous 'Grumpy Cat' and featured appearances on Good Morning America, American Idol, and NBC New's Today.
Trim, the Cat That Sailed Around the World
In the early 1880s, Trim the cat joined explorer Matthew Flinders on his voyage around the globe aboard the HMS Investigator. In addition to this expedition, Trim survived a ship wreck, and his initial near-drowning after falling off the HMS Reliance, from which event Flinders claimed the cat as his own shipmate. This is one brave cat who never feared the water.
Stubbs, the Mayor of Talkeetna, Alaska
This orange tabby cat has served as the honorary mayor of a small town in Alaska since he was a kitten, elected by locals due to a lack of decent human candidates. Stubbs has served as mayor for nearly 20 years and is a town-wide favorite. He performs his mayoral duties based out of Nagley's General Store.
Hank, the First Cat to Run for Senator
Hank was chosen as a candidate for the 2012 election in Virginia, and quickly garnered state-wide appeal. His candidacy inspired an entire political movement based on mocking traditional candidates and Hank reportedly won thousands of dollars for animal groups and rescue organizations. He came in third in the state Senate race — making him a remarkable first cat to run for Senator.
Tibbles, the First Cat to Wipe Out a Species
Stephen's Island on the Cook Strait once claimed the remaining members of the entire species of Lyall's wren. Tibbles the cat lived with her owner David Lyall in the island lighthouse and was renowned for bringing back dead wrens. Within a year, Tibbles managed to kill every remaining wren on the island — subsequently wiping out the entire species.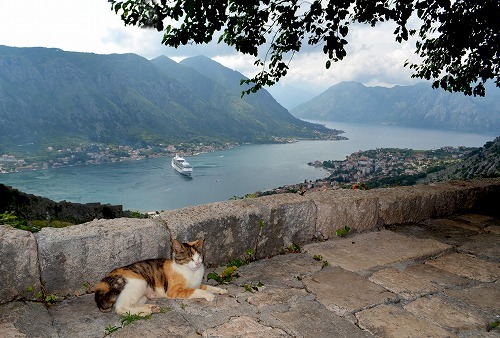 All Ball, the Cat Who Loved Gorillas
Koko is a famous gorilla that was taught to learn sign language by The Gorilla Foundation. When the gorilla indicated that she wanted to have a pet, she received All Ball, an adorable, tail-less gray tabby kitten. They played together often and fell in love with each other, making for one of the most interesting cross-special relationships in history.


Morris, the Most Famous Cat Ever
Morris is the representative brand cat for the popular 9Lives Company, referred to as the most picky cat ever, and historically used to entice owners to only buy 9Lives cat food for their finicky felines. He has made several media appearances, including in Robert Altman film The Long Goodbye and has even been quoted in People Magazine.