Many people forget that cats can have many of the same chronic illnesses that us as humans can have. Caring for a cat with one of these diseases is a challenging but rewarding task. Feline diabetes, FIV, asthma, psoriasis and cancers all occur frequently and tend to occur in mature cats. These diseases are not curable, but they can be manageable. It's a very important role that an owner can play, but it isn't easy. Having a pet with a chronic disease is costly, but as a cat owner I would prefer to manage his/ her condition and work on it as a team.
This article is intended to provide some advice to cat owners who may have a cat with a chronic disease and some of the positives I have found through my personal experience.


1. Get a fantastic vet
Remember that a general veterinarian is like the General Practitioner of the animal world. However they have a lot more different species to manage. So research around and try to find a cat specific veterinarian in your area. Call and as to speak with the veterinarian and see how confident they are with your cats' particular condition. My 7 year old rescue cat has an amazing veterinarian who manages his psoriasis and his asthma even helping late at night with a potentially fatal asthma attack.

2. Make sure you have an action plan
This is really important to clarify with your veterinarian together. Make sure that both of you understand that having a happy and healthy pet is your goal. Also make sure both of you have a plan for when something may go wrong. Due to my cat having asthma we have an asthma plan just like that you would have for a child. He has had to be defibrillated (shocked), however I had discussed with the vet that we would only use it twice and if he was in pain then it would be time we would have to say "good-bye".
I also have told my partner about the symptoms to look for, because my cat is a very popular one, I have also told my neighbors and my close friends. So if anyone can see him coughing and sneezing, then he instantly needs his medication. My partner also knows where his medication is and how much to administer.


3) Understand their condition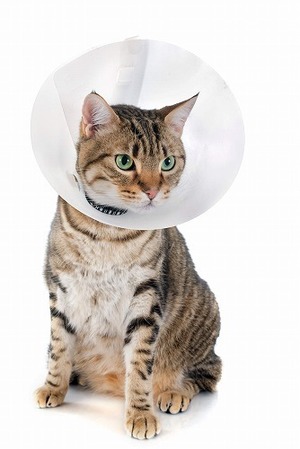 Research everything you need to know about your cats disease. Make sure you know their warning signs to be cautious of, the treatments that may be affective and also it can be useful to get some free advice from a veterinary pharmacist. Many pharmacists are also qualified as animal pharmacists (I know!) So there can be times where you have a question about their medication, which might not warrant a vet fee. I frequently chat to my local animal pharmacist (and have my cats prescriptions filled there) to discuss use of cortisone or topical creams my cat may need or for general advice.

4) Do what you can
Try to make sure your cat doesn't have any other factors which might further aggravate (or spread in he case of FIV). Try to ensure their litter box is kept clean and tidy, do a complete litter clean twice weekly with regular clean ups daily.
Watch what they eat, I keep my cat on a clean diet. I tend to make sure he has a broad range of foods and plenty of fresh water.
Keep your cat up to date with worming and flea treatments. Worms can cause issues with their immune system (which is likely already under attack) and they remove precious nutrients from your cats' food. Fleas cause both severe agitation and skin infection in cats with depleted immune systems. My cat has to be flea treated religiously due to his skin condition.